IELTS is one of the most sought-after tests for applicants seeking migration for higher education or a profession. While millions of applicants appear for the test, it is not ideal that everyone will get approved. This creates fear and a level of test anxiety in the minds of the applicants. In this article, we will guide you through thirteen effective strategies to overcome test anxiety in the speaking module. You may even enrol in the best IELTS coaching centre in India to improve your speaking abilities and reduce your anxiety levels.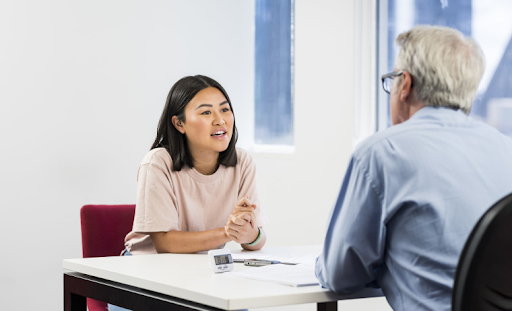 Conquer test anxiety and excel in the IELTS Speaking Test with Ajinorah. Enrol Now!
Take a Deep Breath:

When you are feeling anxious or nervous, it's time to take a deep breath to slow down the activity of your brain. While you are feeling anxious, you may have a multitude of thoughts in your mind. Your brain is already overloaded with thoughts. Avoid piling up your mind further and opt for breathing relaxation techniques to reduce your anxiety for the

IELTS speaking test

.

Walk for a While:

Another strategy that you can adopt is to walk for a while before the exam begins. Don't go to the exam centre with a heavy mind or thoughts. Take a deep breath or go to sleep before you enter the IELTS centre. It is one of the reasons why you should be very mindful before selecting your exam date. You have the option to select the date and time according to your convenience. If you have anything urgent scheduled for that duration, try to push your exam date a little further. Make sure you plan it well so that you are well-prepared for the exam and the anxiety does not reflect on your

IELTS band score

. 

Automate Language:

You must have often heard the phrase, 'Practise makes a man perfect'. This is what you need to implement in your real life and train your mind. Automating language certainly means training your brain to automatically function or think in a particular way. When you practise daily, there is a high chance that your brain will start to process it in less time. Your brain will automate and decode things for you in less time, making it easier to appear in the

IELTS speaking test

.

Power Poses:

If you feel anxious or nervous, you may automatically want to avoid speaking. However, you need to make your mind stronger and train it to face your fears. Yoga is an excellent strategy to reduce stress and calm your mind. The best thing is that it will boost your confidence and ability to deal with stress. Our body and mind tend to get more stressed and release

stress-related hormones

, especially during any big occasion. Try to know yourself and train your body to reduce the release of stress hormones by practising ideal yoga and poses.



Ace the IELTS Speaking Test with Ajinorah's anxiety-busting guidance. Enroll Now!


Divert Your Mind:

At times, we feel distressed without any reason. If you are feeling stressed or anxious, you are likely overthinking, which is putting too much load on your brain. In such a case, you may consider practising grounding activities or mental distraction activities to keep yourself busy and redirect your thoughts. Play a memory game, recite something, or use a timer to automate your thoughts. Keep in mind that you may not be able to find a full solution to completely block the counter-productive thoughts. However, there are ways you can cope with them or limit their impact on your mind. Seek social support or consider enrolling yourself in the best online IELTS coaching to learn from the experts. They will share their own experience and help you get over such thoughts.

Notice When You Get Anxious:

You will never know how to reduce your anxiety levels until you can judge when you get nervous. Analyse this during the practice sessions and notice the situations in which you get anxious. Is it related to an unfamiliar question or related to anything else? During a state of anxiety, many candidates tend to forget the entire answer. Try to stay patient and analyse what contributes to your stress. This may help you find a relevant solution to calm yourself down and reduce anxiety.

Let go of distractions:

Even when we are aware of the importance of the situation, we tend to get distracted easily. In this age of digital media, it is getting even more challenging to stay focused and let go of distractions. Set your objective for the day before going to the centre to make yourself clear and focus on the exam. Train your brain to stay focused and manage more challenging work easily. Adopt mindfulness activities to break the cycle of stress and relaxation.

Power Mantras:

Chanting power mantras is another strategy that you could adopt to clear your mind and energies. Changing the mantras will also cultivate concentration, mindfulness, and self-awareness. You may even consider soothing sounds before you appear for the exam.

Be Calm:

In stressful situations or on the day of the exam, it is common to lose your calm. Count up to 10 or try a 3-minute meditation to divert your mind and look at the same situation from a different perspective. Try active relaxation and spending some time in nature before your exam starts. It will be soothing for your eyes and keep your mind fresh. On the day of the exam, you may avoid revising or going through it again. Last-minute bubbles can be difficult to grasp and may lead to unnecessary stress in your mind. Declutter everything and eliminate all such thoughts from your mind to stay relaxed and tension-free.

Ask the Examiner to Repeat:

It is common to miss out on something if the pace and pronunciation are a little difficult to catch. Many applicants often ask the examiner to repeat the question before stating the answer.

IELTS speaking i

s no rocket science; all you need to do is be a little attentive and listen to what the examiner has asked for. If you couldn't understand, you shouldn't shy away from asking again. It is better to ask again and take your time to grasp than to answer anything wrong.

Visualise Your Success:

Oftentimes, we fail because of the negative thoughts and stress in our minds. This is where you need to change your approach for the IELTS speaking test and think about visualising your success. Make your beliefs stronger by noting them on a piece of paper, and think of yourself as succeeding in front of the examiner.

Practice:

Practice is the key to all your answers.

IELTS speaking

topics can be related to anything, ranging from art to communication, and daily routine to books and exercises. The topics can even be more related to business or any other field. Make sure you read a lot of books and articles and go through the online shows. You may even consider watching reality shows or TedX speakers and interviews to see how famous personalities answer an impromptu question. Give yourself unique topics and answer them in front of the mirror. Accuracy is one of the factors that could impact your

IELTS score calculator

for the speaking module. Make sure your grammar is correct, and practice enough to get command and fluency over the language.

Nobody's Perfect:

There is no need to put unnecessary strain or stress on yourself. Remember, nobody is perfect, and there is always room for an individual to grow. You should strive to do well in your IELTS speaking but do not stress too much that it may lead to anxiety or mental illness. Prepare yourself by practising yourself or with the coaching experts. If you think you stated any wrong facts, apologise and correct them, or simply mention that you are not sure of the situation.

Adapt these thirteen strategies to eliminate the clutter from your mind. You may even look for the best online IELTS coaching to learn more about the speaking module and improve your chances of clearing the section.

Break free from IELTS speaking anxiety with Ajinorah's expert help. Enrol Now!