IELTS is widely accepted and is the world's most standard English language proficiency test for higher education and global migration. There are four assessment criteria for the test, and you will be marked based on your speaking, listening, writing, and reading proficiency in the language. The average band score for the academic test has been 5.95 for females and 5.86 for the writing section. On the other hand, the average scores were 6.17 for females and 6.02 for males for the General Training Writing section.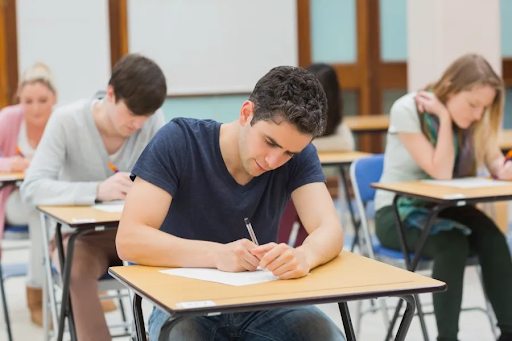 Boost your IELTS writing performance with Ajinorah's Grammar Power! Enrol Now!
Even though no section directly assesses your grammar, it is still the backbone of the test and can directly impact your IELTS band score. While you would have to maintain fluency and command of the words when speaking, you cannot skip any grammar rules while writing. The errors in writing can be detected, which may negatively impact your score. Let us evaluate the importance of grammar and ascertain how you can improve your performance in the IELTS writing test.
Grammar for IELTS
Grammar is an essential element that is necessary for all the modules and sections of the IELTS test. Many applicants appearing for the IELTS often get stressed out. It is because they are worried they might fumble while speaking or end up making mistakes while writing. You may even opt for a computer-based exam to ensure you can delete and redo it to reduce the number of errors in your exam. The online IELTS coaching classes may help you prepare better for the exam and ensure you can complete it on time. The truth is that grammar is required for all the sections, but it may be more clearly visible for assessment in the writing and speaking sections. In IELTS, your grammar may be assessed based on grammatical range and accuracy. You should be proficient in both to ensure your band score does not get impacted because of that.
Grammatical Range:
The grammatical range indicates the factors and quantities needed to access the IELTS writing test criteria. Here are the key aspects that the grammatical range caters to:
Task achievement/ response

Coherence and cohesion

Grammatical range and accuracy 

Lexical resource
Accuracy:
Accuracy signifies that the content you speak or produce while writing should be completely error-free. There should be fewer mistakes in your IELTS writing test so that the examiner does not deduct your scores.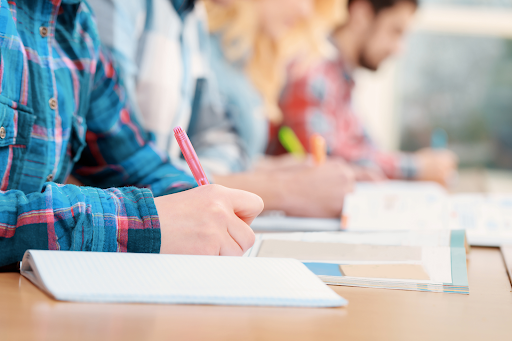 Unlock the power of grammar for IELTS success with Ajinorah. Enrol Now!
Grammar for IELTS Writing Section
Grammar plays an extremely essential role in the Writing module. Well, you should not confuse the writing test with a typical essay or article that you may have written earlier. Be very strict about the guidelines and ensure that your essay is up to par. You should write at least 250 words and adhere to the word limit or other guidelines while writing your answers for the writing sections. The grammar in the module may be evaluated based on the usage of the following:
Tenses

: Make sure you are using the correct form of tense and keeping it similar across the passage. If you are describing a past instance, make sure you are using the right form of tense. You should have a clear understanding of and know the differences between simple present/ present continuous/ present perfect, and other such forms.

Punctuation

: The right punctuation can help convey the meaning more clearly, whereas incorrect usage can change the entire meaning. Make sure you study well on how to use a comma, colon, full stop, question mark, and other kinds of punctuation marks. Underuse and overuse of punctuation marks are never good ideas. Make sure you practise it well in your

online IELTS coaching classes

.

Types of Sentences

: The kind of sentence formation is another basis that is a major part of the IELTS grammatical range. Whether you write a simple sentence or a complex one, whether the sentence is in compound format or written in active/ passive voice, it makes a lot of difference. Grammar is essential for scoring a high score in IELTS, and you should be mindful when making sentences. Keep it a mix of different formats. For instance, if you are writing a conditional sentence, follow the complete rules and give a clearer description of it. Do not leave your sentences in between, and give complete context while writing.

Right Usage of Adjectives

: While it is advised to use adjectives to describe people or things, it is also advisable to prove that you have a wide range of vocabulary. Consider using a mix of comparative or superlative adjectives and the right kind of adjective depending on what you are trying to say. The spellings of adjectives may change in the second and third forms of the verb. Make sure to go through it properly and write the words in the correct format. You should be mindful when selecting the

best online IELTS coaching

centre. Choose a coaching centre that offers flexibility in terms of timing and learning schedule to improve your IELTS performance.

Watch out for frequent spelling mistakes

: Multiple words may have a different pronunciation but be spelt differently. Make sure to look for such common and frequently used terms so that you spell them correctly in your IELTS test. When adding -ing and -ed, the e may be dropped from the words. Make sure you keep these rules in mind while writing to ensure your spelling is correct. Make it a habit to learn new words every day to improve your vocabulary. Do not just learn the meaning; try to write a sentence using that word. Writing those words will help improve your memory and make you feel more confident about their usage.

Use of Formal Language

: Informal language is a more casual tone that we often use while communicating with our friends or family members. In this era of digital media, we are getting used to using slang, cliches, and short forms in our everyday language. Try to keep your tone professional and academic. Avoid using the messaging language or short forms in your answers. Give proper answers, but do not exaggerate the facts. Enrol with an

IELTS coaching centre

to learn more about the format and different modules of the test.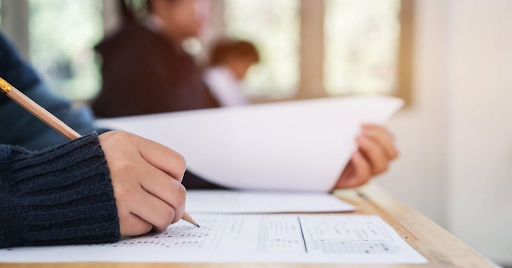 Empower your IELTS writing with Ajinorah's Grammar Proficiency. Enrol Now!
Read The Task Outline Twice
Well, a lot of mistakes happen in the IELTS because applicants do not pay attention to the instructions. We understand that you may have limited time to complete the exam, but you should take 5-10 minutes to go through the instructions. The guidelines in the practice paper might be different from the actual exam. Therefore, you must plan your time and avoid spending too much time on a particular task. In the writing section, Task 2 is worth twice as much as Task 1. This is one of the reasons why you should not spend too much time on task 1. Your aim should be to complete as much as you can and score well in the IELTS. 
Each section of the IELTS contributes 25% of your score. The best online IELTS coaching may segregate and help you cover all the modules properly. You may even consider drafting your answers and writing down your ideas. Examiners often also look for evidence that you were attempting to organise your ideas. Make sure you spend your time planning and writing your answers. Take some practice tests or get a study partner from the best IELTS coaching centre to improve your learning and understanding of the test.
Let Ajinorah's Grammar Expertise enhance your IELTS writing performance. Enrol Now!